This particular version of the Mountain light is the full length model, with more important the inverted color scheme. Usually on the 91 the sleeves are of a darker hue than the rest of the shell, however a couple special colors where the opposite. As with this one that has that rare purple from the late 80's and early 90's. Even better, it is a USA made model in mint condition. Features include, embossed not embroidered outer logos, gore tex fabric, and zip in fleece compatibility.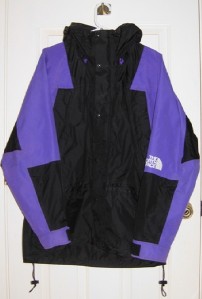 When new this model would have sold for $319 to $399, respectively. With more rare colors like the above pictured, prices usually are about half, even in mint condition. Many will over look this super rare style on the markets, which is great for the collector that appreciates the American made models.This model is sold by
Vintage Gear Outfitters
, all rights reserved.
Retail $319-$399
Expect $79-$300 depending on size, color, and condition.